Lake Havasu Guide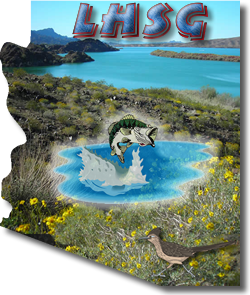 Comprehensive community/user supported fishing and recreation guide to Lake Havasu Arizona. Fishing, boating, camping, water sports, lodging, dining and recreation information and reviews submitted by visitors to Lake Havasu Guide. Submit your fishing reports, news, reviews, classified ads, fishing tournament results and schedules, recommendations and comments.
Lake Havasu is well known for its recreational fishing and boating, which bring in 3.5 million visitors a year. Fishing tournaments are often held on the lake, where bass are the main catch.
The scenic shoreline of Lake Havasu is an ideal place to enjoy beautiful beaches, nature trails, boat ramps, and convenient campsites. The lake is truly a watersport haven located near the famous London Bridge of Lake Havasu City.
The Largemouth Bass population is sufficient to support bass fishing tournaments nearly every weekend during winter months. The average size of the Bass is about 2 lbs. but fish from 4.5 to 5.5 lbs. are not uncommon. The Bass population seems to be increasing, due to catch-and-release angling, an increase in aquatic vegetation, introduction of man-made habitat, abundant forage, and care of tournament caught fish.
White sturgeon were stocked in Lake Havasu in 1967 and 1968 from stock obtained from San Pablo Bay, California. While some dead sturgeon were found downstream from Havasu (probably killed during passage over dams), living fish have not been recorded, but may still exist along the southern end of Lake Havasu near Parker Dam.[1] Sturgeon have been known to grow upwards of 20 feet (6 meters) and can live in excess of 100 years and many in and around Lake Havasu continue in their efforts to catch a glimpse of the majestic animal.
Between 1969 and 1971, the reconstruction of the London Bridge and the digging of the London Bridge Channel greatly changed the nature of the concession lands, and Pittsburg Point became an island. The London Bridge was acquired by MPI, taken apart in numbered pieces, and shipped to Lake Havasu City. With this historic attraction now in Lake Havasu City, the number of visitors to the area began to increase dramatically. Another factor that helped greatly with the increase in recreational visitors was the completion of Highway 95 between Parker and Lake Havasu City.
Created by by Parker Dam, the 45-mile long Lake Havasu is nestled along the foot of California's Chemehuevi Mountains near Interstate 40. The Lake is managed by the Bureau of Land Management (BLM) which oversees nearly 1.4 million acres of public lands in both the Mojave and Sonoran Deserts along the Colorado River, Lake Havasu and the Arizona uplands to the east.

The diverse landscape ranges from sand dunes and rugged canyons to mountains and basins. Adding to the textures and shapes of the region are the diverse flora and fauna. Towering Saguaro Cactus stand like statues along the hillsides, along with Ocotillo, barrel and prickly pear cactus. Bighorn Sheep, Coyotes, reptiles, over 200 species of birds and wildlife can be viewed throughout the region. Bill Williams National Wildlife Refuge is located at the south end of the lake and is an excellent location for wildlife watching.
Fishing is a popular recreational activity on the reservoir, which contains striped bass, white bass, largemouth bass, smallmouth bass, crappie, walleye and catfish.
Fishing Reports

Lodging

Bass Fishing

Boats
PHOENIX – Outdoor recreation enthusiasts are encouraged to participate in the Statewide...
Read More